Software you will need:
Do you really need a fancy "Menu" with audio in the background? Is is worth sacrificing video quality? If you answered "NO" to either one of those questions, then MenuShrink is the program for you!
MenuShrink is a small application that lets you compress DVD motion menus by turning them into still images with or without background audio (removing the audio will allow for bigger savings). Best of all, it is completely free!
Menus can usually be shrunk down 5% to 10% of their original size, while keeping full functionality. That means you will decrease the amount of compression that is going to be needed, yet still retain the "Menu" feature of the DVD. (Wonderful tool for someone who wants to do a "Full Disc" backup!)
MenuShrink is extremely easy to use! All you do click the "Open" button and select the "VIDEO_TS.IFO" file or drag the "VIDEO_TS" folder on to the "MenuShrink" screen and click the "Process" button.
---
This is a basic guide to using MenuShrink 2.4 or later.
MenuShrink only open unprotected/unencrypted DVD files. You will need to have the full DVD structure, such as .VOB files, .BUP files, and .IFO files all together in a folder (preferably the VIDEO_TS folder). (Screen Shot Below)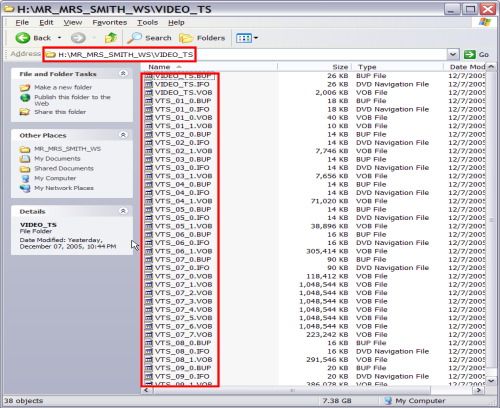 ---
Ok, lets start using MenuShrink! Start up MenuShrink. Click the "Open" button and select the "VIDEO_TS.IFO" file or go to "My Computer" and open up the folder that contains the DVD files. (Resize the "My Computer" screen so that both that screen and the MenuShrink screen are visible.) Now just drag the "VIDEO_TS" folder to the "MenuShrink" window.(Screen Shot Below)



or




After that, MenuShrink will load the DVD and tell you how many title sets (VTS) it found and the overall size of all the menus. As you can see, it found 117.63 MB (red). It will also tell you the total size of the DVD itself (blue). (Screen Shot Below)




*Optional* - You can decide whether or not you would like the background audio to be saved or eliminated from the menu. Of course, removing the audio (leaving the check mark out of the box) will allow for bigger savings. *Recommended* (Screen Shot Below)




Now click the "Process" button and MenuShrink will begin to "shrink" the menus down (in a matter of seconds). After MenuShrink completes, this screen will come up showing you the final menu size and how much space you have saved (blue). Also on that screen there are several buttons that you may click on to conveniently and automatically open up your DVD with your favorite editing or viewing programs, such as DVD Shrink and PowerDVD (green). There is also a "Restore Backup" button to click when you have messed up or would like to change some other settings (ie. you would want to keep the audio instead of remove it) (red). (Screen Shot Below)




Done! Continue as you normally would.